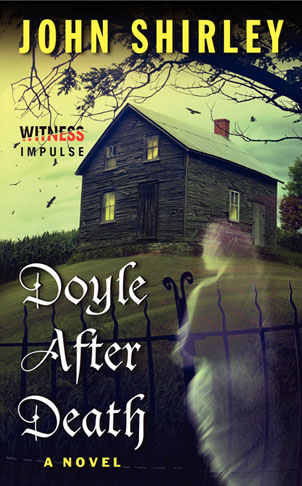 This book, DOYLE AFTER DEATH, my new novel, is available TODAY in ebook format. The publisher is HarperCollins, for their Witness imprint.
If you're a fan of Sir Arthur Conan Doyle, and want to know what happened to him after death (in fiction anyhow), why here's the book for you.
Read a free sample at Barnes & Noble!
I know it's now out in ebook format because I just bought it via Amazon and looked at it on this laptop. (Yes, I could've gotten that download free, but that would mean waiting for them to send me some special code, and I wanted to see it.) The ebook is only $2.99! (Promotional, don't you know.) Seems nicely organized.
Available here for Kindle …and also available from Barnes and Noble for Nook, and elsewhere.
The mass market paperback appears to be coming out in about one month, in November and can be pre-ordered now at Amazon, BN.com, or just about any brick-and-mortar bookstore that carries mass market paperbacks.
Tags: Arthur Conan Doyle, ebook, mass market paperback, novel, Sherlock Holmes, Spiritualism, the afterlife